For November, our featured

Endor Base Member of the month

is

RogueHunter

. Russell has been with us for about four years and has three awesome Jedi costumes.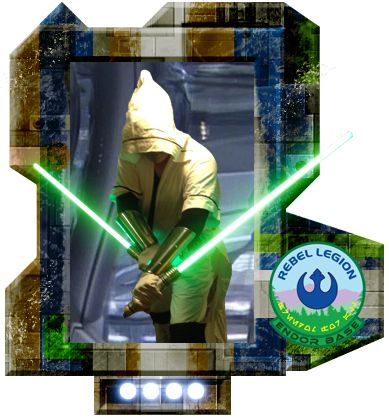 Tell us something about yourself:

I am a native San Franciscan, 47 years old and I have loved Star Wars since it came out in May of 1977. I have met many great people within the RL, both within my base and around the world.


How long have you been involved with the Rebel Legion:

I have been with the RL since 2012


Positions held (past or present)?

I have been the Regional Captain for San Francisco and San Mateo counties for the past year.


What costume(s) do you have?

I have a generic Jedi (though I know have the missing pieces to complete out and submit Ep 3 Anakin) and I have a Sentinel Jedi from the game "The old Republic".


What costumes do you have in the works (if any)?

I will submit my Ep 3 Anakin soon


Do you have a favourite Troop/event:

My favorite Troop? I cannot pick just one as I have enjoyed them all because of the other members that have attended make it so much fun.


What is your first Star Wars memory?

I was 8 and in second grade. My mother went to the first screening at the Coronet Theater and was so excited about it, she got me out of school to go see the second showing. There were about 75 people in the theater during the showing, but when we came out, the line was around the block for the next showing.


Favorite Star Wars movie:

The Empire Strikes Back, of course Wink


Favorite Star Wars Character:

Han Solo
_________________


Endor Base Commanding Officer 2015-2018



Proudly serving the Rebel Legion as Jek Porkins, Willrow Hood,
RFT Gareth Ward, Jedi Knight Wren and 3 Yavin Trooper Techs!

Member of K.J.O. - R.L.S.C. - U.C.G.R - R.A.I.D.