> > >Return to the Master List < < <
This page is a listing of the minimum requirements for specific Rebel Legion costumes. Although this list is extensive, it is meant to cover the more common costumes and is not meant to be a complete list of all possible costumes that may be admitted by the Rebel Legion. If your costume is not listed here, you should consult the Legion Membership Officer (LMO) to see if it will be admissable. Changes or additions to this list may be submitted here. For easier reference, the master list has been broken down by character.
NOTE:
The costume standards are a guide, yet are not an all inclusive outline of required elements. The judges will be looking for quality of workmanship, accurate execution and use of materials in addition to these general standards check lists. If you have a question about fabrics, colors, and parts choices for your build please contact the LCJs for your category about parts/materials you are considering before you start your build. (LCJ listing
here
)
Anakin Skywalker (Clone Wars)
Required Items:
Dark gray chest armor.

Detached dark gray shoulder bells/armor with red Jedi emblem on left shoulder.

All armor pieces must be made from a rigid material (No foamies allowed)

All armor pieces must have the correct weathering

Dark gray knee-length vest surcoat with split in the back and closed sides.

Dark brown or burgundy/reddish-brown tunic with fitted sleeves.

Brown Jedi belt.

2 Gold food pellets/capsules.

2 tall brown leather pouches.

Right hand ROTS style glove without buckles.

Left dark brown guantlet

Tall dark brown Anakin style boots.

Correct belt arrangements.


Formal Requirements:
You must have at least three of the following items to be accepted:
Anakin's ROTS lightsaber hilt.

Covertec clip (black or brown colored).

Anakin's right-eye scar.

Brown hooded cloak.

Costume Resources:
Sons of the Suns - www.sonsofthesuns.com
Reviewed/Revised by Legion Costuming Committee on May 27, 2009
---
Ahsoka Tano
Required Items:
Maroon or dark red Suede (or Micro-suede) tube top and mini skirt.
Maroon or Dark Red distressed leather gauntlets with 3 buckles and dark red suede (or micro-suede) elbow covering.
Maroon or dark red distressed leather (or leather like) gloves (separate from gauntlets).
Tights: whitish/grey in color.
Dark Red distressed leather (leather like) square-toed boots with dark red distressed leather (leather like) spats with 5 buckles that match gauntlet buckles.
Blue and white striped togrutan montrals/head-tails with beads,preferably skin-like appearance as opposed to fabric finish.
Two food capsules, 1 silvery blue, 1 gold.
One boxy pouch.
Dark Red distressed belt with gold trapezoidal buckle with purple single tabbard coming down with diamond design in darker purple on it.
Green lightsaber (non-toy lightsaber).
Upper body and face painted burnt orange with white designs on face, no splotchy make-up.
Optional Items:

7 silver triangular pieces of jewelry on the head.
Luke ANH style poncho.
Luke ROTJ style cloak.
(Credit to Jedi-G of the RL for the Ahsoka standards)
Costume Resources:
---
Reviewed/Revised by Legion Costuming Judge on March 29, 2009
=-=========================================


Luminara Unduli: The Clone Wars

Required Items:


Black one-piece bodysuit with turtleneck, long sleeves, and textured front
-OR-

Black fitted pants/leggings and tight black longsleeved shirt with turtleneck collar and textured front

Brown open-front overshirt attached at princess seam of undershirt, with split bell-shaped sleeves just past elbow-length

Floor-length Open front brown skirt

Decorative clasp at neck, metal-colored with 5 'danglies'

2 brown belts with gold round medallions, one worn straight, one worn slanted

Brown Egyptian-styled headdress with brown/black trim

Decorative wrist bracers in browns

Decorative waist tabard in browns

Tall black boots, No-low heel

Olive or yellowish skintone, with black/blue diamond chin tattoos and dark lower lip

Painted Black Fingernails

Green-bladed Lightsaber
Recommended but not required:



Luminara's Hero Lightsaber hilt

Bright Blue Contacts



Edited by LMO on 24 June, 2011
---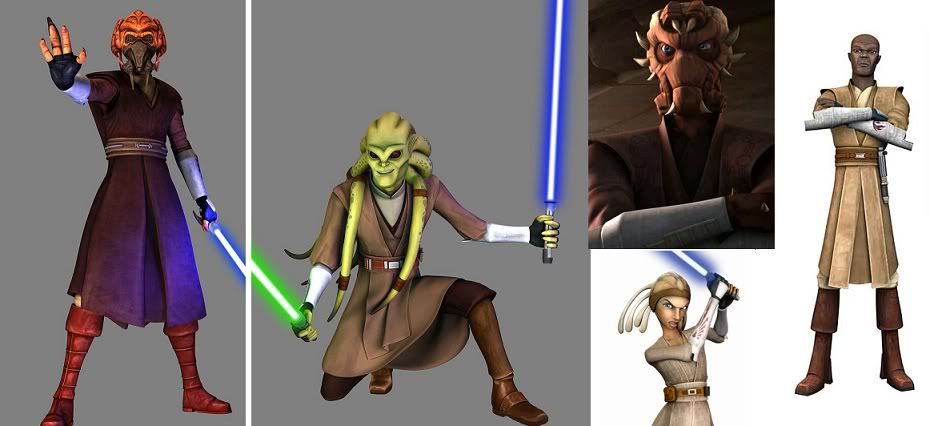 Generic Jedi General, the Clone Wars
Permitted colors- Earth tones: Only

browns and natural color

s are acceptable. Shades of blue, green, orange and red are

not

permitted.



Soft Costume.



1. Inner tunic or Dickie. Mandarian-style acceptable.
2. Outer Tunic, Well-fitted, extending to the costumer's knee area.
3. Tabards, extends past the obi/sash,.
4. Obi/sash.
5. Belt, wide leather main belt with a covertec (or similar), thinner secondary belt on top of the main belt, and a buckle. Thinner secondary belt cannot be loose or "sag". No black belts accepted.
6. Brown Boots, (leather, seude, pleather) must rise at least to the calf, but not above the knee. No rubber boots, black boots, or visible laces permitted.
7. Pants or skirt.
8. No visible t-shirts.
9. Lightsaber (No toy sabers)




Jedi Armor.


Required. This is the only permitted combination.

Style 1) Animated Clone-styled armor. White only.
Hand plates & Forearms, black gloves.
Style 2) Heavy leather gauntlets


Shoulder/chest and bipep armor reserved for face characters only (Obi-Wan, Anakin).
Formal Requirements:


You must have at least two items from the list to be formal.



At least one set of four food capsules

At least one of the following pouches: small brown ribbed belt pouch, tall brown ribbed belt pouch, or wide brown ribbed belt pouch

Comlink on armored forearm





Optional

.
Decals (limited to this selection)

1. Republic logo
2. Jedi Order symbol.
---
Barriss Offee (The Clone Wars)




Required Items:


1. Blue raised textured or patterned cloak with hood made of non shiny material. Cape should stop just above waist and should be accurate in shape.
2. Black long-sleeved top made of non shiny material that should appear horizontally ribbed. Top should be fitted and preferred to have a hood but a separate cowl is acceptable to cover and hide the hair. Sleeved come to a point on the hands.
3. Dark blue or black flared full-length non ribbed skirt made of non shiny drapey material. Dress should be one piece and begins to flare below the waist.
4. Calf high or knee high black boots
5. Facial tattoos with pale very light greenish/yellowish base makeup. Tattoos also on top of the hands. Tattoos should be Dark purple to black as should the lipstick.
6. Dark brown leather belt with heart-shaped decoration on buckle. Belt hangs below waist.
7. Lightsaber hilt (not a toy). If bladed blade must be blue




Optional Requirements


1. Left arm bracer with gold colored decoration similar to belt buckle.
2. Communicator on the bracer near the middle.
3. Accurate hero saber.




Costume Resources


1. Barriss FB Page
2. Wookieepedia

Standard written by Commander_Barriss.
Added by LMO 11/29/11.
---
Obi-Wan Kenobi (Clone Wars Season 1)



Required Items:



1. Clone white animated-style armor (forearms, elbows, biceps with backs cut out, shoulders, handplates, shins, knees):
- Left shoulder has red Jedi symbol.
- Elbows must be attached to forearms.
- Jedi white chest/shoulder armor with mock-neck collar
- All armor pieces must have the correct weathering / neck seal must go completely around the neck (No gaps allowed)
- All armor pieces must be made from a rigid material (No foamies allowed)
2. Tan sleeveless outer tunic, knee length
3. Single tabard in front extending down from the waist to knee level
4. Dark brown obi
5. Black undersuit
6. Black gloves
7. Dark Brown leather belt with smaller inner strap and silver buckle
8. 2 tall brown leather pouches
9. Revenge of the Sith Hero lightsaber hilt.
10. Belt components should be arranged in the proper order.
11. White clone trooper style shoes
12. Hair should be styles as seen in series. Costumer should have a beard. Wigs and prosthetics are allowed.



Optional:



Suggested, but not required:

1. Brown hooded cape
2. 'Obi-Wan Kenobi' knees attached to armor



Costume Resources:



1. RL Jedi Tutorials
2. Crazy Old Wizards - www.crazyoldwizards.com.ar
(credits to Defyitall for the Obi-Wan standards)
---
---