> > >Return to the Master List < < <
This page is a listing of the minimum requirements for specific Rebel Legion costumes. Although this list is extensive, it is meant to cover the more common costumes and is not meant to be a complete list of all possible costumes that may be admitted by the Rebel Legion. If your costume is not listed here, you should consult the Legion Membership Officer (LMO) to see if it will be admissable. Changes or additions to this list may be submitted here. For easier reference, the master list has been broken down by character.
NOTE:
The costume standards are a guide, yet are not an all inclusive outline of required elements. The judges will be looking for quality of workmanship, accurate execution and use of materials in addition to these general standards check lists. If you have a question about fabrics, colors, and parts choices for your build please contact the LCJs for your category about parts/materials you are considering before you start your build. (LCJ listing
here
)
Juno Eclipse (Rebel Supporter)

Required Items:


Plain tapered/fitted black jacket, waist length (at waist or slightly below waist length (comes to where the belt covers it)
No buttons or zippers
No Imperial rank bars or tools

Imperial belt (only imperial item allowed. Its rectangular in shape)

Light to medium solid grey tank top underneath black jacket

Plain tapered/fitted black pants, no belt loops

Black leather fitted gloves. Wrist length. Strap at the wrist, an opening between wrist and where the fingers begin.

Long black riding boots. Should be just underneath the knee in length.

Hair must be pulled back, in a french twist type of fashion with a couple of stray hairs hanging towards the face-line.





Standard written by: Lori (Princess Leia Organa)




Reference pics


Hairstyle:
http://www.rebellegion.com/images/CostumeHair/FUJuno/juno2.jpg
Outfit:
http://www.rebellegion.com/images/CostumeHair/FUJuno/juno3.jpg
http://www.rebellegion.com/images/CostumeHair/FUJuno/juno4.jpg



Reviewed March 30, 2009



---------------------------------------------------------------



Rahm Kota - TIE Factory, The Force Unleashed (Jedi)




Required Items:


Black or dark brown high-crew neck undershirt or equivalent dickey.

Dark brown semi-fitted long sleeve tunic with kimono collar and 12-15" sleeve wrist openings. Fabric may be crinkle or smooth textured and have red to olive tones.

Dark grey or black fingerless gloves.

Khaki or tan pants, stonewashed cotton or suede leather/ultra suede.

Medium to dark brown knee-high leather or pleather boots with plain tops or Qui-Gon style cross straps.

Dark brown Obi-Wan or Qui-Gon style jedi belt with no pouches, food caps, or saber clip.

Medium to dark brown 3-4" wide strap armor harness extending from back center of belt line in a "V" up over the shoulders. Can attach to breast plate and/or continue down front to belt line.

Medium brown (red to olive tone) fabric tabards, extending from belt line to just above the knees.

Medium brown (red to olive tones) fabric split-cape drapes over shoulders, mid-calf to ankle length in back. 18-24" wide at bottom, tapered or gathered/pleated to go over shoulders. Can either be extension of tabards or separate pieces.

Rigid weathered silver breast plate with belly control-box, extending from belt line to mid-upper chest.

Rigid weathered silver shoulder bells, extending from slightly above the shoulder to mid upper arm.

Dark brown leather bandoleer with rectangular buckle at chest level and single flap-closure pouch at belly level, extending from over right shoulder to left waist.

Long black/silver lightsaber hilt. Can be attached at back of bandoleer or hand-held. If bladed, must be green blade.

Slicked back or loose medium length (below ears) straight hair with minimum grey/white highlights.

Goatee with grey/white highlights.

Formal Requirements:


You must have the following items to be considered formal:



Rigid weathered silver wrist gauntlets with narrow box/clip on one side, extending from wrist to mid forearm.

Rigid weathered silver hand guards covering backs of hands.

Boots should have Qui-Gon style cross-straps.

Bandoleer should have cross-etch lines throughout, and a narrow center strap extending from the buckle over shoulder to back.

Pants should have hidden/no back pockets.

Hair/wig should be pulled in a top-knot high on back of head.

Recommended (but not required):


Silver/white hair/goatee/eyebrows

Facial scars

Semi rigid/rigid saber holster attached to back of bandoleer

Rahm Kota style belt with drop-curve cut in front

Frayed/worn cape ends

Resources:
Koda Vonnor's Rahm Kota Project
Wookieepedia Rahm Kota Page
Credit and written by: Bill Costigan (Koda Vonnor)
---------------------------------------------------------------



Galen Marek (Death Star Duel)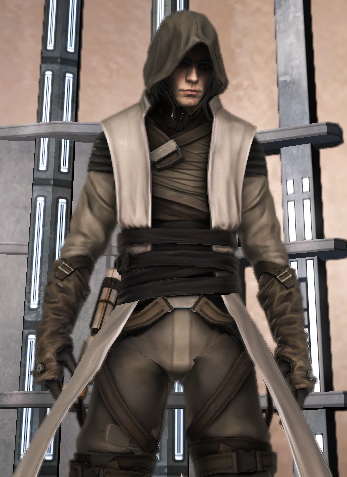 Required Items:


Light tan tunic

Light tan hood attached to tunic

Matching light tan pants

2 black shoulder bells w/ 6 ribs on each bell

Black Gloves

Dark khaki lower arm gauntlets from the elbow down to first row of knuckles

Off white tabbards (Front: 2 narrow tabbards reaching down to mid-shin Rear: one single tabbard reaching down to mid-calf, needs to be tapered in rear from the width of the shoulders at the top, to just inside width of waist)

Tabbards also needs to include a stiff collar at the neck (aprox 1")

Brown boots, rising above the ankle

2 spats around the ankle that matches color of tabbard, each spat has two clasps on both the inside and outside of spat

2 spats from the ankle to just below the knee that matches color of lower arm gauntlets, each spat has two clasps at the top on the outside of the leg.

4 separate black belts starting at the waist and going up (each belt aprox 1") each belt has a separate belt closure. The second belt from the bottom wraps inside the tabbard on the L side, and outside the tabbard on the R side.

Inner belt inside of tabbards w/ silver hexagon buckle

2 straps just above each knee each belt has a belt closure

2 straps attached from hexagon buckle and descending to leg straps; each set of straps are connected behind the leg

Non-toy lightsaber hilt or custom lightsaber hilts are allowed.

Short hair, does not have to be buzzed. But no long hair allowed.

Formal Requirements:


You must have at least two of the following items to be accepted:



Narrow silverish piping around complete edge of tabbards

Three 1/2" studs/rivets evenly spaced over the first row of knuckles on both lower arm gauntlets

Covertech Clip

Buzzed Starkiller hairstyle

Starkiller

or

Rahm Kota lightsaber hilt


Recommended but not required:


Aqua colored lightsaber blade

Costume Resources:


The Art and Making of Star Wars: The Force Unleashed

Star Wars: The Force Unleashed video game

Star Wars: The Force Unleashed Novel

Credit and written by: Neil Shivelle (Aurabesh)
---
====================================



Original standards posted by KJO DCO 03/30/2009
---
Galen Marek – Arena Standard, The Force Unleashed 2



Required:



1. Gray flannel or flannel like shirt with both arms cut off or under-rolled to the lower bicep area. No stitching should be apparent on rolled up fabric, no frayed edges on bottom.
2. Black cargo pants.
3. Black boots, leather or leather-like with no laces
4. Front and back gray cloth tabards extending from upper belt hanging to mid-knee. Front tabard is tapered from mid thigh width. Rear tabard is tapered from waist width. Tabards should be appropriately 'weathered' at bottom to represent wear.
5. Leather or similar fingerless gloves. Each glove has black metallic backing armor that runs from the knuckles to mid hand with two edges folding inwards, ending at wrist.
6. Dark (dark and light gray) cloth or leather wraps around base of glove that end approximately 1-2" below the elbow.
7. Dark (dark and light gray) cloth or leather wraps around arch of boot, circling the leg up to the top of the boot.
8. Chest harness consisting of two dark brown leather/leather like belts that cross the body at chest level and stomach level. Top harness has two straps leading up to attach to top of back armor.
9. Shoulder bell armor of metallic or metallic appearing construction. Should curve along the shoulder, sloping higher towards the neck. A second additional upper arm armor bell of similar construction should be attached to upper harness.
10. Connected back armor consisting of dark brown leather/leather like armor stretching from top of back to bottom of ribs. Armor should have four evenly spaced rectangular leather plates, vertically oriented.
11. Dark brown leather/leather like waist belt. Belt has unique belt buckle on front along with two circular buckles on left and right. Trailing belts off front and back support large dark brown leather/leather-like pouch on thigh.
12. Pouches – Marek has 4 other dark brown leather/leather like pouches – two small pouches directly under the arms attached to upper chest belt, two larger pouches on waist belt.
13. 2 identical non-toy, PVC or custom lightsabers. Sabers may attach to left and right side of main belt (in-game version) or on harness (trailer version), but not required to attach. If bladed, blades may not be red or black.
14. Short or crew-cut hairstyle similar to Marek. No long hair allowed. Costumer should be clean shaven.



Optional:



1. Weathering on shirt
2. Harness closes with metallic or metallic appearing quick release buckles
3. Starkiller style arena sabers or in-game sabers.


Reference photos: http://s1133.photobucket.com/albums/m600/JediMM/TFU2%20Ref%20Photos/Marek%20Arena/

Standard written by JediMasterMark
Approved by Costume Standard Committee & LMO 5/11/12
---

(Click image to enlarge)


Galen Marek – Ceremonial Jedi Robes



Required Items:



1. White long sleeve mock turtleneck / white long sleeve crew neck shirt.
2. White cowl / hood (attached either to the dark tan vest, or to the turtleneck in the rear).
3. Dark tan vest w/ single tabbard on L side going down to mid-shin. Vest needs to have three shoulder tucks on each side, & drop down to the mid upper arm on both sides.
4. Dark tan arm wrappings on both forearms from elbow down to first row of knuckles.
5. Large white obi. Obi should be wide enough to go from pants waist to mid-chest.
6. Narrower (aprox 3") dark tan sash wrapping several times around large white waist obi.
7. Khaki pants
8. Two identical lightsaber hilts (no toy sabers or Ultimate FX short saber) attached to the dark tan sash on the right hip. (One hilt needs to be tucked behind top layer of tan sash, the second hilt is attached using the sash itself by crossing around the hilt.)
9. Lightsaber (No toy sabers or Ultimate FX short saber) carried in hand.
10. Dark brown leather or leather-like boots rising to just below the knee. Rubber boots not allowed.
11. Costumer should be clean shaven. Short hair preferred, but if costumer has longer hair, should be completely hidden inside cowl.



Recommended but not required:



1. Starkiller lightsaber hilt
2. Aqua colored lightsaber blade

Approved by Costume Standard Committee & LMO 5/11/12
---
---