> > >Return to the Master List < < <
This page is a listing of the minimum requirements for specific Rebel Legion costumes. Although this list is extensive, it is meant to cover the more common costumes and is not meant to be a complete list of all possible costumes that may be admitted by the Rebel Legion. If your costume is not listed here, you should consult the Legion Membership Officer (LMO) to see if it will be admissable. Changes or additions to this list may be submitted here. For easier reference, the master list has been broken down by character.
Clone Trooper Soldier, The Clone Wars (animated style)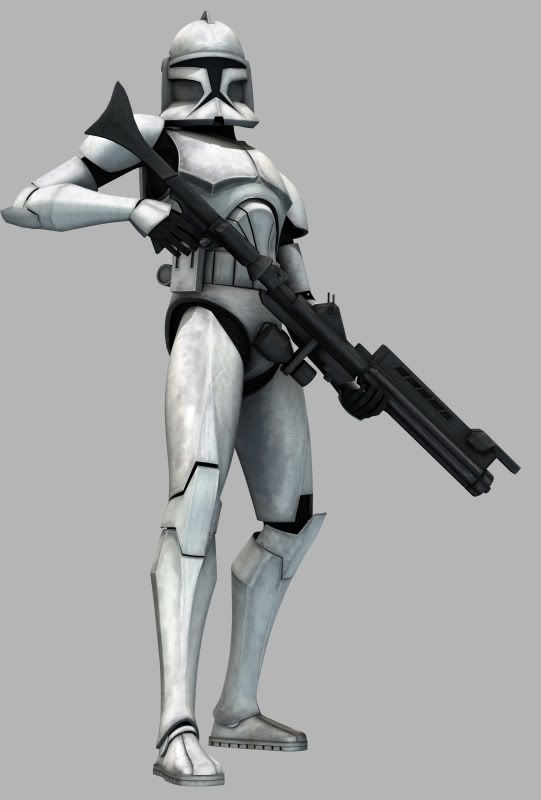 Required Items:



Black Undersuit


>One or two piece black undersuit. Commonly used components include sports compression wear, warm-up suits, dance unitards, or diveskins. Undersuit must be smooth in appearance or with vertical ribbing with no labels or logos visible once the armor is on.


Black Gloves


>Black over the wrist gloves made of leather, nylon, or other low pile fabrics. Gloves must not show any labels or logos once the armor is on and cover any exposed skin.


Neck Seal


>Neck seal to be black in color with vertical ribbing or being smooth in appearance. No logos or labels are to be visible. If the seal is not incorporated as part of the undersuit, a balaclava or other similar covering is acceptable.


Helmet


>The Clone Wars animated style clone helmet - Fanmade bucket. Some "name brand" helmets may be unacceptable.
>Visor - Black visor covers entire "T" shape and frown
>Helmet Fin on dome
>4 black vents on each side of helmet
>Primer grey stripe around back of dome.


NOTE: Episode II style helmets are not acceptable




Armor


(1) Chest
>Chest and back plate should match together at the sides with no gap, just a seam line.

(1) Back
>Chest and back plate should match together at the sides with no gap, just a seam line.

(2) Shoulders

(2) Shoulder Straps
> Correct shape with ridges.

(2) Upper Arms
>Front/back pieces are seamless.

(2) Forearms
>Inner seam/clamshell design allowed.

(2) Hand plates

(1) AB plate

(1) Kidney/Lower Back Piece

(1) Butt Plate

(1) Cod piece

(2) Upper thighs
> Front/back pieces are seamless.

(2) Lower Legs

(1) Compad on left forearm




Clone Trooper boots


>White shoes with white soles
>Strap across top of foot with circular detail pieces at each end
>Proper toe detail
>No laces or logos


Belt


>The Clone Wars style belt
>Segmented (or segmented-look) belt
>One large belt box, opposite each other, on hips
>Thermal detonator centered on rear of belt

Optional


Elements listed as acceptable here may not be traditionally associated with a costume, but are not so unreasonable as to detract from it. Please keep in mind that the following items may not be allowed at certain canon/high profile appearances.



DC-15 Short

DC15 Long Rifle

minigun

rocket launcher

Note:


Other weapons used by clones in The Clone Wars are acceptable.




Weathering -

HIGHLY RECOMMENDED

Color should be heavy on the greys, with little/no browns

Reviewed/Revised by Legion Costuming Judge on April 7, 2010
---
---