> > >Return to the Master List < < <
This page is a listing of the minimum requirements for specific Rebel Legion costumes. Although this list is extensive, it is meant to cover the more common costumes and is not meant to be a complete list of all possible costumes that may be admitted by the Rebel Legion. If your costume is not listed here, you should consult the Legion Membership Officer (LMO) to see if it will be admissable. Changes or additions to this list may be submitted here. For easier reference, the master list has been broken down by character.
Advanced Reconnaissance Commando, Standard Class, Clone Trooper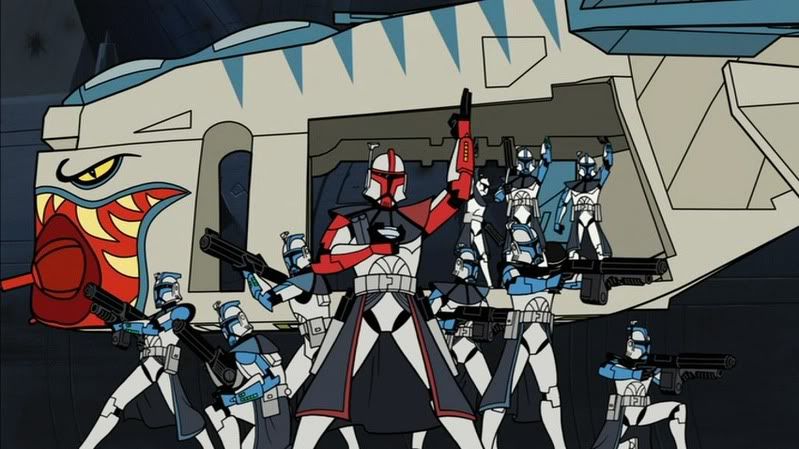 Required



NOTE: This clone wears Phase I (Episode II) armor with additional paint and accessories. Only the additional features are listed here.




Helmet


>Colored rank stripe around visor and down center of dome (Red=Captain / Blue=Lieutenant)
>Fett-style Range Finder on right side of helmet. Mounted

in

the ear, not to the outside. Stalk should be metal colored. Range finder should be white.


Armor



(2) Shoulders
>Rank stripe down the center

(2) Upper Arms
>Rank stripe on the outside of the bicep, located slightly more toward the front

(2) Elbows
>Rank stripe on outer half of elbow plate

(2) Forearms
>Raised left forearm includes metallic dart, 5 square yellow buttons on outer area and two buttons on inner area of forearm
>Rank stripe on upper/outside

(2) Handplates
>Rank stripes down center

(2) Knees
>Rank stripes down center


Pauldron


>ARC style pauldron
>Black with 4 panels over left shoulder painted to match rank color


Kama


>Charcoal grey
>Front/bottom corners should extend to bottom of knee plates
>2 triangular detail pieces at front/top
>Matching rank color trim, 1 inch wide

Optional



Pistols and Holsters

(Red ARC

only

)
>One holster on each hip, hanging from the belt
>Option A - 2 DC-17 Pistols
>Option B - 2 ARC Trooper pistols


Pauldron Option

(Red ARC

only

)
>2 or 3 black leather or leather-like ammo pouches hang from pauldron on right breast


Large Boba Fett-style belt pouches

(Blue ARC

only

)
>2 pouches or boxes hanging from opposite sides of belt at hips
>Pouches/boxes may be soft or rigid


Kama Option


>4 inch "V" cut in bottom/center

Standard by Tom Twohig (General Fidelis)
---
---